Terms & conditions

Absolute Aotearoa
Please read our terms and conditions thoroughly before booking, in order to avoid disappointment.
Cancellation of a booking must be notified in writing and when this is received by Absolute Aotearoa the following cancellation policy applies to the individual ticket price/group booking total:

Cancel up to 2 Months prior to departure date – 100% of the deposit returned to the client
Cancel between 2 Months and 31 days prior to departure date – 60% returned to the client
Cancel between 30 and 8 days prior to departure date – 80% cancellation penalty
7 days or less prior to departure date – 100% cancellation penalty
No Show – no refund.

If the client wishes to transfer a booking to another date (if available) this will be at a cost of $500 (NZD). The changes are then dependent upon availability with Absolute Aotearoa and other activity, transport and accommodation operators originally quoted upon. Further costs may be incurred due to alternative operator cancellation/transfer policies and availability, which Absolute Aotearoa takes no liability for.
Absolute Aotearoa reserves the right to make alterations to an excursion without notice, including alterations to the itinerary.
In the unlikely event of Absolute Aotearoa cancelling a tour before departure all monies paid will be refunded in full. This will be the full extent of Absolute Aotearoa's liability.
In the event of any person leaving the tour of their own accord, or in extreme circumstances, being asked to leave by Absolute Aotearoa, that person will be liable for their own maintenance and expenses and will have no claim against Absolute Aotearoa whatsoever.
The decision of Absolute Aotearoa will be final on all matters relating to the satisfactory progress of the tour and the health or conduct of a client at any time before or after departure which appears likely to endanger the safe, comfortable or anticipated progress of a tour. Clients may be excluded from parts or all of the tour without refund or recompense if expelled for health or conduct reasons. In the case of ill health Absolute Aotearoa may make such arrangements as it sees fit and recover the costs thereof from the client. If a client commits an illegal act the client may be excluded from the tour and Absolute Aotearoa shall cease to have any measure of responsibility for them, and no refund will be given for any unused services.
Absolute Aotearoa reserves the right to decline any booking at their discretion.
Should a group tour deviate from the custom itinerary booked, Absolute Aotearoa reserves the right to bill the group for additional charges incurred, including, but not limited to, additional kilometers travelled, additional fuel charges and additional driver's hours. Payment for such changes will be required in full within 48hours of the changes being made. Should the group be leaving their tour with Absolute Aotearoa within this time period, full payment will be required at the time of change.
For certain tours advertised by Absolute Aotearoa, minimum passenger numbers are required. This will be advised upon inquiry and on the tour itinerary prior to any payment being taken.
For FIT tickets, such as Kiwi Adventure Tours and USA Student Adventures, passengers must be 18 years of age or older. Those under 18 must be accompanied by a paying legal guardian or parent for the duration of the journey
Due to volatile international oil prices, Absolute Aotearoa reserves the right to increase custom group itinerary costs up to 7 days prior to the departure date to ensure that these costs are covered. Failure to not pay will result in the tour being cancelled or ending sooner the itinerary advises.
Dates, prices and itineraries advertised by Absolute Aotearoa are subject to change and confirmation. All pricing is in New Zealand Dollars (NZD). All quotes and invoices will be made in New Zealand Dollars only.
Where an itinerary requires an overnight stay, all meals and accommodation for the Driver and/or Guide will be covered by Absolute Aotearoa and incorporated into the quote, unless otherwise agreed. Where accommodation is supplied by the 'Customer' it must meet minimum standard levels being a private room with its own toilet and shower facility. Absolute Aotearoa does not permit their Drivers to share a room with Tour/ Charter Leaders or 'Passengers'.
At the time of direct payment via www.absolutebus.co.nz the name that will appear on your statement will be Absolute Aotearoa Ltd.
It is understood that upon Absolute Aotearoa receiving payment, delivery of goods will be upon date of ticket booked/custom itinerary agreed upon start date.
A deposit of 50% of the tour prices is payable at the time of booking confirmation. The balance of 50% is required 30 days prior to the departure date of the tour. If full payment is not received by the date of departure Absolute Aotearoa may deem the booking cancelled and the deposit forfeited.
The client acknowledges and accepts that the tour vehicle does not have the benefit of passenger insurance and agrees to indemnify Absolute Aotearoa against any claim or demand made against them by the client, their personal representatives or dependents in respect of accident, disease, personal injury or loss of life caused to, contracted or suffered by the client during the course of the tour.
Clients should purchase personal, comprehensive travel insurance no later than at the time the balance is due in order to cover themselves for their own cancellation or curtailment of their travel plans. It is the clients responsibility to arrange suitable adventure travel insurance with benefits that include personal accident, medical expenses, repatriation and loss and damage to personal effects. A copy of the client's travel insurance may be requested by Absolute Aotearoa at the start of the tour. In the event that a client does not have suitable travel insurance they may not be allowed to join the trip.
All passengers luggage items and belongings are subject to the Carriage of Goods Act 1979 and Absolute Aotearoa does not accept liability for lost or stolen goods and possessions.
Absolute Aotearoa does not accept liability for any activity, transport and accommodation provider, nor their safety policies and procedures.
Domestic Flights (if included) once booked are non-transferrable and are not refundable. Your full name must be provided at the time of booking as per your current and valid passport states. Absolute Aotearoa does not accept liability for any airline provider, nor their safety policies and procedures.
The content of advertising by Absolute Aotearoa is based on knowledge and information available to Absolute Aotearoa at the time the advertisement was issued. All information has been compiled with reasonable care and is published in good faith. The information given in the advertising and other literature supplied is given in good faith but no warranty is given that it is correct.
Absolute Aotearoa accepts no responsibility for loss, damage, injury, harm or inconvenience arising out of Acts of God, epidemics, natural disasters, meteorological events, armed robbery, civil disorder, mechanical breakdown and other acts beyond reasonable control of Absolute Aotearoa. Absolute Aotearoa does not accept liability for any delays in transit.
Absolute Aotearoa reserves the right to arrange alternative transport or alter itineraries where necessary. To the extent permitted by law, all our liability for damage to your property, disruption to your travel plans, or mental injury is excluded. This exclusion is subject to any rights or remedies you may have under the Consumer Guarantees Act 1993.
The client accepts that all expeditions involve an element of personal risk and are of a potentially hazardous and unpredictable by nature, and to the extent possible by law waives claim against Absolute Aotearoa for any loss, damage, injury, harm or inconvenience resulting from that personal risk.
The physical address of Absolute Aotearoa: 135b Rickit Street, Taupo, New Zealand 3330
Absolute Aotearoa is a New Zealand owned and operated business.
Any photographs and/or video footage taken on tour by Absolute Aotearoa staff, including photographs and/or video footage with passengers, may be used by Absolute Aotearoa for promotion work and advertising, including website and social media platforms as mediums.
One pack or suitcase + one small carry on day pack per person. Bikes, surfboards and other large items are unable to be carried without prior approval.
Absolute Aotearoa Are Sweet As! I recently got back from a 3-week trip and I couldn't have asked for a better experience! Cam and Amanda went above and beyond to make sure our group got the most out of our time in New Zealand. Although A…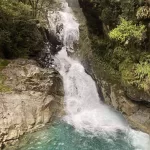 HarmonyJo
February 7, 2023
Best Time of Our Lives! Our driver Cam was amazing. He was organized, always on time, great manners, very informative of all the places we saw, the things we did, the people of New Zealand, and all the questions we threw at him. We could…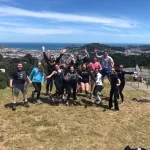 Justine
Brockport Study Abroad 2020 Cam is the best tour guide!! He brought our study abroad group all the way from the South Island to the North Island in 3 weeks! Cam was so knowledgeable on everything and I'm so glad that we were able to have…
Rachel
City by City 20 Day Tour Through New Zealand We traveled through New Zealand from the South to the North Island - all in 3 weeks! I was with a study abroad program, but I think this type of experience with tour guides like Cam would be e…
Shelby
Brockport College Study Abroad Travel Group Absolute Aotearoa is absolutely the way to go. Our study abroad group of 15 traveled for 20 days with this company. Cam was not only one of the best people on the trip, he and Amanda went above…
Nelly
Unforgettable Memories Our family had a 6 day private trip in the North Island organized by Amanda and fulfilled by Cameron. We were taken right from the Auckland airport and our trip ended in Wellington. Cameron was very informative, po…
Dora
Absolute Aotearoa - Absolute Best Way to Tour New Zealand! I recently went on a faculty-led study abroad with my university where we studied New Zealand's culture, and we toured all over the North and South islands with Absolute Aotearoa…