Student Travel

Programmes
We make organising student or alumni travel to New Zealand a breeze. From work experience to adventure, cultural experiences to study abroad, custom build your own programme and itinerary with us.
A New Zealand student travel experience to remember
New Zealand is a fantastic location for international student groups to travel to. As an overseas experience for students and alumni, it has everything you could want, from world-leading work experience options in many different industries through to amazing recreational activities.
When you custom build a programme and itinerary through Absolute Aotearoa, every detail will be taken care of ahead of time, and we are fully flexible in your travel options and class requirements.
Travel that's built around your class needs
Not the other way around! The great thing about our New Zealand student travel programmes is they are unique to every university or school that books with us. Every aspect of your trip will be put together around what you and your students are looking to get out of the trip.
We can arrange accommodation, recreational activities if you want them, and we even have a wide range of professional contacts across multiple industries to secure exclusive behind the scenes meetings and lectures.
Example past student programme
12 Destinations

20 People

20 Days
Faculty-led international culture and leisure studies trip
This 20-day trip for The College at Brockport, NY began in Christchurch and slowly worked up to finish in Auckland. Students experienced the leisure activity hotspots of Queenstown and Taupō, the Māori cultural home Rotorua, and saw a glimpse of how our government runs in Wellington.
Leisure activities included in the tour were blackwater rafting through glowworm caves, experiencing a geyser and geothermal wonders, OGO rides (aka Zorb), and an overnight stay on a boat.
Students also learned about the history and culture of New Zealand with 3.5hr session at Waikato University on Māori culture, visiting a Māori village and experiencing an authentic Hāngī dinner.
Absolute Aotearoa Are Sweet As! I recently got back from a 3-week trip and I couldn't have asked for a better experience! Cam and Amanda went above and beyond to make sure our group got the most out of our time in New Zealand. Although A…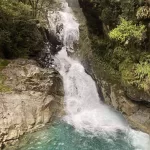 HarmonyJo
February 7, 2023
Best Time of Our Lives! Our driver Cam was amazing. He was organized, always on time, great manners, very informative of all the places we saw, the things we did, the people of New Zealand, and all the questions we threw at him. We could…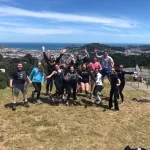 Justine
Brockport Study Abroad 2020 Cam is the best tour guide!! He brought our study abroad group all the way from the South Island to the North Island in 3 weeks! Cam was so knowledgeable on everything and I'm so glad that we were able to have…
Rachel
City by City 20 Day Tour Through New Zealand We traveled through New Zealand from the South to the North Island - all in 3 weeks! I was with a study abroad program, but I think this type of experience with tour guides like Cam would be e…
Shelby
Brockport College Study Abroad Travel Group Absolute Aotearoa is absolutely the way to go. Our study abroad group of 15 traveled for 20 days with this company. Cam was not only one of the best people on the trip, he and Amanda went above…
Nelly
Unforgettable Memories Our family had a 6 day private trip in the North Island organized by Amanda and fulfilled by Cameron. We were taken right from the Auckland airport and our trip ended in Wellington. Cameron was very informative, po…
Dora
Absolute Aotearoa - Absolute Best Way to Tour New Zealand! I recently went on a faculty-led study abroad with my university where we studied New Zealand's culture, and we toured all over the North and South islands with Absolute Aotearoa…