Private Tour

Holidays
Take the stress out of touring New Zealand! Book with your own stops or itinerary, or let us build one for you.
Comfort, privacy, style – all wrapped up in one unforgettable trip!
Have you always wanted to have a holiday in New Zealand, but don't like the idea of travelling with large crowds? Or maybe you'd rather someone else looked after the car keys, so you can relax more?
A private tour holiday might be the option for you! Just imagine it: your very own comfortable, private minibus, ready to whisk you away from the airport to the first of many breath-taking stops. No need to scramble for a taxi, worry about missing your place on a packed tour coach, or miss out on a fully booked activity. Every detail will be fully taken care of ahead of time, so all you have to do is relax on you vacation and enjoy the views. And when you book with Absolute Aotearoa, every option of your tour is fully customisable to you.
Customise your private tour holiday
If you already have an itinerary idea, we can make it into a reality – or, if you just know you want to visit New Zealand, we'll work with you to create a dream trip for any length of time you are planning to be here. We run private tour holidays year-round and can depart on any day of the year, allowing you to choose your ideal time to travel.
Treating yourself? Upgrade to luxury transport and five-star accommodation and tour in style. Budget packages with great hostel accommodation are also available – it really is all down to what you are looking to get out of your visit to New Zealand.
The Absolute Aotearoa difference
The main thing you'll notice when you book with us is there are no set itineraries. There's no rigidity here – you can see and do what YOU want. If you're looking for ideas of what to include on your trip, check out our inspiration guide.
Our team have decades of combined experience in the tourism industry in New Zealand, so we know all the great spots. Especially the ones the big coaches can't stop at! We'll include some secret driver spots and hidden gems along the way, so you won't miss out on seeing the best New Zealand has to offer.
Our flexibility allows us to cater to groups of all sizes and shapes, from family vacations to honeymooning couples and groups of friends.
Example of past private tour itineraries
5 Destinations

4 People

6 Days
6-day private family North Island tour
This family of four experienced some of the top hits and hidden gems of the North Island on their 6-day, 5-night tour. Starting from Auckland Airport, the first day saw them visiting the glowworm caves at Waitomo, before departing to dig their own "hot tubs" in the sand at Hot Water Beach.
From here they visited the Hobbiton Movie Set before heading to Rotorua for sightseeing, wine tasting, and nature and cultural experiences.
Geothermal walks, volcanoes and scenic lake cruises also featured as the tour headed down to Taupō, and then on to Wellington via the Tongariro National Park.
2 Destinations

47 People

2 Days
2-day wedding adventure tour
This whistle-stop tour for 40 international wedding attendees started and ended in Auckland, with one overnight stay in Rotorua.
The two days were packed with adventure and sightseeing. The itinerary included Waitomo glow worm caves, a Māori Hāngī and cultural show, hiking in the geothermal Waimangu Volcanic Valley, OGO (Zorb) rides, and a tour of the Hobbiton Movie Set.
Absolute Aotearoa Are Sweet As! I recently got back from a 3-week trip and I couldn't have asked for a better experience! Cam and Amanda went above and beyond to make sure our group got the most out of our time in New Zealand. Although A…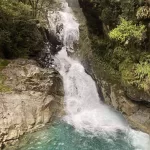 HarmonyJo
February 7, 2023
Best Time of Our Lives! Our driver Cam was amazing. He was organized, always on time, great manners, very informative of all the places we saw, the things we did, the people of New Zealand, and all the questions we threw at him. We could…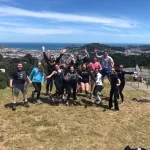 Justine
Brockport Study Abroad 2020 Cam is the best tour guide!! He brought our study abroad group all the way from the South Island to the North Island in 3 weeks! Cam was so knowledgeable on everything and I'm so glad that we were able to have…
Rachel
City by City 20 Day Tour Through New Zealand We traveled through New Zealand from the South to the North Island - all in 3 weeks! I was with a study abroad program, but I think this type of experience with tour guides like Cam would be e…
Shelby
Brockport College Study Abroad Travel Group Absolute Aotearoa is absolutely the way to go. Our study abroad group of 15 traveled for 20 days with this company. Cam was not only one of the best people on the trip, he and Amanda went above…
Nelly
Unforgettable Memories Our family had a 6 day private trip in the North Island organized by Amanda and fulfilled by Cameron. We were taken right from the Auckland airport and our trip ended in Wellington. Cameron was very informative, po…
Dora
Absolute Aotearoa - Absolute Best Way to Tour New Zealand! I recently went on a faculty-led study abroad with my university where we studied New Zealand's culture, and we toured all over the North and South islands with Absolute Aotearoa…