About

New Zealand
Get to know the land, the people, and other useful things before your trip to Aotearoa.
New Zealand: things to know before you go
Thinking of visiting our little country, tucked at the bottom of the globe? Amazing choice! New Zealand is home to a diverse landscape, filled with natural beauty, vibrant culture, and world-class tourism activities. We've put together a useful guide on things we think are helpful to travellers to know about New Zealand before they visit, to help you plan your trip, and get the most out of your travel time. Find out how to best get here, what the country is like, interesting facts and figures, and what the people are like.
Vibrant culture
The people of New Zealand are considered some of the friendliest in the world, salt of the earth folks who fully embrace the spirit of hospitality. You'll find we work hard and play even harder. The melting pot of Māori, European, Asian, and Pacific Island cultures gives New Zealand its diverse and vibrant social background.
Kiwi hospitality
Kiwis love hosting, and they love good food and drink! Just head to any of the many cafes, restaurants, and hospitality venues and you'll see the friendly, warm, and welcoming attitude for yourself. New Zealand boasts world-renowned vineyards, fine dining restaurants, homegrown craft beer breweries, and a bustling café and barista coffee culture, all ready to serve up their take on the amazing local produce. The spirit of manaakitanga (Māori for hospitality) is found everywhere you go.
Māori culture
The Māori people settled New Zealand around 1,000 years ago, journeying in waka (canoes) from their ancestral homeland of Hawaiki. Māori culture is an important building block for New Zealand's culture as a whole, and you'll definitely come across the language, the art, and the taonga (treasures) as you travel around Aotearoa. We love including a Māori cultural experience in our tours, so chat to us about adding something in!
Sports & outdoors
We kiwis love our sports! To get a real flavour of life in New Zealand, why not add in going to a rugby or cricket match while you're here? Golf is also a popular sport, with hundreds of beautifully maintained courses spread around the country. Trout fishing in Lake Taupō is also a must-do for keen fishers.
Guarding nature
New Zealand is home to a unique range of native flora and fauna, many of which are found only here, and sadly many of these plants and animals are also endangered. There are ongoing efforts to look after these wonderful native birds, reptiles, plants and more, and to protect New Zealand's natural beauty for generations to come. With such a diverse landscape in easy reach of most of the population – you can go from beach to alpine resort in under 2 hours – it's easy to see why Kiwis love getting out into nature. As you travel you will encounter the spirit of kaitiakitanga, the Māori word for guardianship over nature. We encourage all our tour visitors to embrace this spirit as well.
Unique Geography
New Zealand is made up of two large islands, the North and South Islands, and over 700 smaller islands, including Rakiura – the 3rd largest (also known as Stewart Island). Geographically isolated in the southwest Pacific, and formed from a violent volcanic history, the country boasts a unique and diverse landscape. You'll find sub-tropical temperatures in the top of the North Island, and temperate to cool climates down south.
Geothermal wonderlands
Witness bubbling mud pools, hissing geysers, brightly coloured hot pools, steam escaping from holes in the ground, or take a dip in a geothermally heated mineral pool. New Zealand straddles two tectonic plates, which gives rise to the volcanic and seismic activity here. Luckily this is low for the most part, so you can safely experience it at the geothermal resorts and attractions around the country.
Glaciers & fiords
A glacier is a river of ice that flows extremely slowly. New Zealand has many glaciers, mostly along the Southern Alps, which in the past were responsible for shaping the feather-like coastline of the South Island's southwest coast. Fiordland National Park features many of these glacial-carved fiords, including the famous Milford and Doubtful Sounds. See some of the largest glaciers on the rugged West Coast, such as the Franz Joseph Glacier or the Fox Glacier.
Volcanos & mountains
Many of New Zealand's mountains are actually dormant volcanoes, such as the iconic peaks of the Tongariro National Park, one of the famous Lord of the Rings filming locations. The highest peak is Mount Cook in the Southern Alps, a mountain range that runs the length of the South Island and contains all of New Zealand's mountains reaching over 3000m. Some of the country's mountains are climbable within a day; others will take you a multi-day trip with serious climbing gear.
Prehistoric forests
Connect with nature in a place unlike any other! New Zealand boasts large swathes of untouched forests, from lush beech rainforests and primordial native trees to towering exotic redwoods and pine forests. Listen out for the songs of our native bird species, including the distinctive tūī by day and the ruru (aka morepork) by night.
Lakes & coastlines
New Zealand has over 15,000 kilometres of coastline, featuring many famous and pristine beaches. Water is a large part of life in the country, with many kiwis taking to the ocean or a nearby lake on summer days. Notable spots include the gigantic Lake Taupo in the middle of the North Island, the rugged black sands of Auckland's West Coast, and picture-perfect Cathedral Cove in the Coromandel Peninsula.
Getting here
Flights to New Zealand
Depending on where you're coming from, you might find it's easier than you think to get over to New Zealand. Flights depart from most major international hubs, and can fly into Auckland (the main international airport), Wellington, Christchurch, Dunedin or Queenstown. If you're coming from Europe, expect around 24 hours flight time; America's West Coast around 13 hours and East Coast 18 hours. New Zealand has its own airline, the highly rated Air New Zealand, so you can get a taste of the country before you even land.
Visa & entry
You might need to get a visitor visa to travel to New Zealand. If you're from a visa waiver country, you'll need to apply for an NZeTa instead – check which one you'll need on the NZ Government website. You can stay up to 3 months on the NZeTa and 9 months on the visitor visa.
When to visit
You might be wondering when the best time to visit New Zealand is. The peak tourism season is our southern hemisphere summer – December to February – to make the most out of the warmer weather. Spring and autumn (fall) can be great too, as it's usually a little quieter, the weather can still be nice, and it's usually a bit less expensive. The winter season is great if you like snow sports, with skiing and snowboarding available around the country during the winter months.
Facts & figures
Get ready for your trip with these fun facts, statistics and trivia to know about New Zealand before you come.
Did you know New Zealand was home to the first ever commercial bungy jump? It was made at the then-new Kawarau Bridge Bungy in 1988.
The longest place name in the world is in the North Island, Taumatawhakatangihangakoauauotamateaturipukakapikimaungahoronukupokaiwhenuakitanatahu. Phew!
New Zealand has a lot of unique animals, like the world's smallest dolphin (Hector's dolphins), the world's only alpine parrot (kea), and the largest insect in the world (wētā).
You're never far from the ocean here: the farthest inland point in the country is only 119 km from the Tasman Sea and Pacific Ocean, just northeast of Cromwell in the South Island.
New Zealand produces roughly 1.7 tonnes of mānuka honey every year, regulated by the UMF Honey Association to ensure purity and quality. Try some while you're here!
If you go without stopping, you can drive the length of New Zealand from Cape Reinga to Slope Point's End in roughly 29 hours. That doesn't account for sleeping, rest breaks or any of the sightseeing you'll of course want to include on the way.
Weather & climate
Want to make sure you pack the right clothes for your trip? The bad news is, the weather in New Zealand can change easily and varies a lot from north to south. The good news is, if you forget anything important, there is a fantastic range of local clothing stores and brands where you can pick up extra supplies! We like to say you can experience four seasons in a day here, so it's best to be prepared for all types of weather and temperatures just in case.
If you're sticking to the North Island in summer, you'll probably be safe with mostly summer clothes – shorts, t shirts, a light sweater or two – as the weather is usually warm and dry. Thunderstorms can happen, so bring wet weather gear as well. Summer temperatures in Auckland can range from lows of 15 degrees C to 25 degrees C.
The further south you go, the colder it will get, even during summer. Average temperatures for summer in Queenstown vary from as low as 8 degrees up to 20 degrees Celsius. Nights can get very cold, so your best bet is to bring long trousers (pants) and warm sweater or two plus your raincoat, as it can be very wet even in summer.
Absolute Aotearoa Are Sweet As! I recently got back from a 3-week trip and I couldn't have asked for a better experience! Cam and Amanda went above and beyond to make sure our group got the most out of our time in New Zealand. Although A…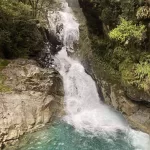 HarmonyJo
February 7, 2023
Best Time of Our Lives! Our driver Cam was amazing. He was organized, always on time, great manners, very informative of all the places we saw, the things we did, the people of New Zealand, and all the questions we threw at him. We could…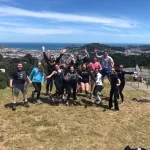 Justine
Brockport Study Abroad 2020 Cam is the best tour guide!! He brought our study abroad group all the way from the South Island to the North Island in 3 weeks! Cam was so knowledgeable on everything and I'm so glad that we were able to have…
Rachel
City by City 20 Day Tour Through New Zealand We traveled through New Zealand from the South to the North Island - all in 3 weeks! I was with a study abroad program, but I think this type of experience with tour guides like Cam would be e…
Shelby
Brockport College Study Abroad Travel Group Absolute Aotearoa is absolutely the way to go. Our study abroad group of 15 traveled for 20 days with this company. Cam was not only one of the best people on the trip, he and Amanda went above…
Nelly
Unforgettable Memories Our family had a 6 day private trip in the North Island organized by Amanda and fulfilled by Cameron. We were taken right from the Auckland airport and our trip ended in Wellington. Cameron was very informative, po…
Dora
Absolute Aotearoa - Absolute Best Way to Tour New Zealand! I recently went on a faculty-led study abroad with my university where we studied New Zealand's culture, and we toured all over the North and South islands with Absolute Aotearoa…