FAQs
Find out about Absolute Aotearoa, visiting New Zealand, and other frequently asked questions from other travellers.
Questions we often get asked
"What's Aotearoa?" "What's New Zealand like?" and even sometimes, "What's a mince pie?" – here are some of the most common questions we get asked here at Absolute Aotearoa! We're here to make your trip as enjoyable as possible, so if you have something you'd like answered that's not on this page, just get in touch with us and we'll be happy to answer your query.
You can also head to our Things to do in New Zealand and About New Zealand pages for more help when planning your trip.
Frequently Asked Questions
We believe we have what it takes to show you New Zealand like no others. We are truly passionate about New Zealand travel and understand that the majority of people coming here will not come back again, so we need to ensure that you have the best time and see as much as possible! We want you to travel with us and we want to show you everything New Zealand has to offer.
We price our transport services on coach operating costs such as Road User Charges and Fuel. Driver wages, accommodation and meals (breakfast and dinner). If accommodation, activities and meals are a part of your itinerary that we are booking, we add these costs on too.
We do not have any hidden costs and will always be honest about what you are paying for, however please read our Terms and Conditions page to understand consequences should fuel prices increase, or if itineraries are changed.
No, not at all. We want to do what YOU want to do. So contact us with your New Zealand tour ideas and we will help design an itinerary which suits.
New Zealand is a relatively compact country (compared to say, the United States), so most people will book around 2 to 3 weeks for travelling around New Zealand. You can see most of the top highlights in this time, but we think there is never enough time to explore this amazing country and all of its hidden gems.
Aotearoa is the Maori name for New Zealand. The pronunciation is 'ow-tee-a-row-a'.
New Zealand is a bit complex! You will experience sub-tropical countryside in the far north, whereas in the far south you will experience a much cooler climate. We like to say that you experience 4 seasons in one day, so make sure you bring clothes for all seasons, including a rain jacket. New Zealand is in the Southern Hemisphere so you can expect summer in December – February.
We can arrange all types of accommodation from camping right through to 5 Star hotels.
We're more than happy to take small tour groups. Just let us know your requirements and we will provide you a free no obligation quote. We will adjust the size of the vehicle to suit your group also. This will help ensure that the costs are not too high.
English is the most commonly used language in New Zealand. New Zealand has three official languages; English, Maori and New Zealand Sign Language.
The New Zealand Dollar is the official currency of New Zealand.
New Zealand consistently gets voted among the most friendliest countries in the world. We are people who love to talk and will easily strike up a conversation. with you. We are quite relaxed and casual, however we work hard and get the job done, something of which we are all proud of.
No, it is not. However if you experience service which you feel should be rewarded a tip is greatly appreciated – this is a great reward for a person who may be getting paid close to minimum wage, which is generally what newer staff are paid in the tourism industry.
New Zealand is ahead of the world at UTC/GMT +12 hours.
Our drivers will make sure they stop often so all passengers can hop off to stretch their legs, have something to eat and to freshen up. If you really need to stop, all you need to do is tell your driver.
Lunch – if you purchase your lunch from a local bakery, you are probably going to spend between NZD$10 to $15 depending on how hungry you are. A favourite (and one Amanda loves!) is the mince pie – a must try while in New Zealand, washed down by a refreshing L&P. At a café or restaurant you will pay between NZD$20-$35per person.
Dinner – At a restaurant you will spend approximately NZD$20 – $50 per person for your main meal at dinner depending on what you select from the menu. New Zealand lamb is delicious and is worth the cost at least once!
New Zealand also has many of the global fast food chains such as McDonalds, Burger King, KFC, etc. We will also stop at supermarkets/grocery stores so you can purchase your own food to cook with.
A mince pie is a pastry shell and top with a delicious ground beef and gravy mix inside. Amanda can't get enough of these and can make a tasty homemade one too!
L&P is "world famous in New Zealand" – Lemon and Paeroa is a soft drink first created in the small town of Paeroa. The taste is hard to describe, but is a favourite amongst the kiwis. Your driver will make sure they remind you to try this soft drink. After hours, Cameron likes to mix this one with Southern Comfort!
Absolute Aotearoa Are Sweet As! I recently got back from a 3-week trip and I couldn't have asked for a better experience! Cam and Amanda went above and beyond to make sure our group got the most out of our time in New Zealand. Although A…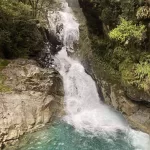 HarmonyJo
February 7, 2023
Best Time of Our Lives! Our driver Cam was amazing. He was organized, always on time, great manners, very informative of all the places we saw, the things we did, the people of New Zealand, and all the questions we threw at him. We could…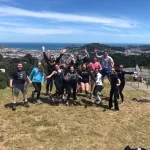 Justine
Brockport Study Abroad 2020 Cam is the best tour guide!! He brought our study abroad group all the way from the South Island to the North Island in 3 weeks! Cam was so knowledgeable on everything and I'm so glad that we were able to have…
Rachel
City by City 20 Day Tour Through New Zealand We traveled through New Zealand from the South to the North Island - all in 3 weeks! I was with a study abroad program, but I think this type of experience with tour guides like Cam would be e…
Shelby
Brockport College Study Abroad Travel Group Absolute Aotearoa is absolutely the way to go. Our study abroad group of 15 traveled for 20 days with this company. Cam was not only one of the best people on the trip, he and Amanda went above…
Nelly
Unforgettable Memories Our family had a 6 day private trip in the North Island organized by Amanda and fulfilled by Cameron. We were taken right from the Auckland airport and our trip ended in Wellington. Cameron was very informative, po…
Dora
Absolute Aotearoa - Absolute Best Way to Tour New Zealand! I recently went on a faculty-led study abroad with my university where we studied New Zealand's culture, and we toured all over the North and South islands with Absolute Aotearoa…